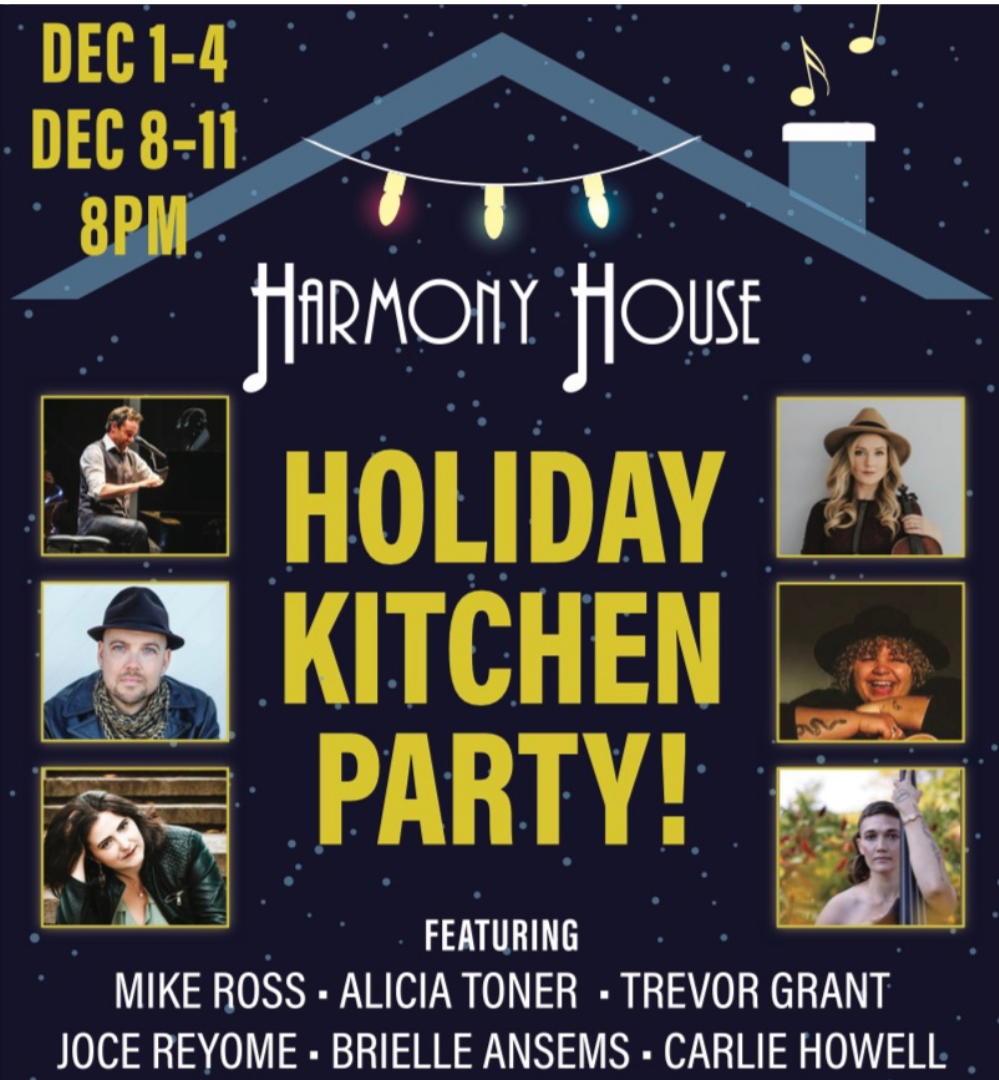 Harmony House Holiday Kitchen Party!
***The Harmony House Holiday Kitchen Party is moving to The Mack!
Due to unforeseen circumstances beyond our control, we have had to change venues for our holiday celebrations. Our friends at Confederation Centre of the Arts jumped right in to help and have graciously made The Mack available for the run of our shows and we can't wait to share the music with you there!
If you have already purchased tickets no action is required, everything is still on the same dates, at the same 8pm start time, with only the change of location and change to general seating.
Unfortunately it does mean that The Holiday Dinner offered by Chef Hans Sell in The Lounge will be unavailable this year prior to the show.
Though we are confident this is going to be a fabulous run of shows at The Mack, we appreciate that these changes may be inconvenient to some, and will offer a full refund to any ticket holder who would like one. 
Please email harmonyhousepei@gmail.com to request a refund. 
We thank you for your understanding and are committed to giving you a concert that will give you all the feels, a joyous, heartfelt holiday celebration! Hope to see you there!!! 
The Mack is located at 128 Great George St. in Charlottetown.
Show begins at 8pm, doors open at 7:30pm – General seating.
Bar Service available
Wheelchair accessible
_________________________________________________________________________________________
After a hugely successful run last December, The Harmony House Holiday Kitchen Party is back this December at Harmony House in beautiful Hunter River!
"Some of PEI's finest musicians will be joining me on stage for a rousing and heartwarming evening of stories and songs," says Ross, who will be joined by Brielle Ansems, Alicia Toner, Joce Reyome, Trevor Grant, and Carlie Howell.
Bring your friends, family, or staff party to this wonderful evening of dinner and joyous holiday music.
Performances are Wednesday through Saturday evenings at 8pm from December 1-11.
***UPDATE: With PEI VaxPass regulations in effect, proof of double vaccination will be requested upon entrance to the concerts in December. We thank you for your patience and understanding as we navigate through these changes.
***Please note as well that there will no longer be 6-foot social distancing requirements between parties and masks will be required at all times with the exception of eating and drinking.