Welcome to Harmony House!
At the end of 2020, Mike Ross and Nicole Bellamy became the new owners/operators of this wonderful spot, and they are so excited about it's future!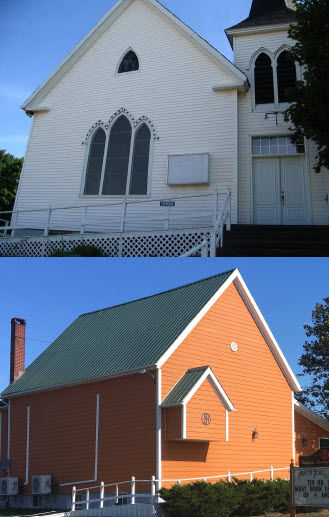 Harmony House was created in 2008, a reconstruction of the original building, Hunter River United Church, built over 100 years ago.
The building was re-envisioned to become what it is today, a beautiful 140-seat music hall with a downstairs lounge and art gallery. It is an integral part of the Hunter River Community and a special part of the arts scene across PEI.

From 2008 to 2020 Kris and Melanie Taylor ran Harmony House with a lot of love, creativity and positive energy – bringing in hundreds of musical acts to sold out audiences and spreading the joy of music to everyone who came to listen. We plan on carrying on that same tradition in the years to come. Check out the Harmony House Facebook page for a whole history in photos!
We are happy to say Kris is staying on as part owner, and he, along with Melanie, have been great in helping pass along insight and guidance to us so that the magic that is Harmony House keeps flowing smoothly through these changes!
We are so happy to be here and can't wait to keep sharing the music with you at this magical little spot in PEI.
Mike and Nicole