Tickets
Box Office
The Harmony House Box Office is through Ticketpro online at Ticketpro Atlantic or call 1-888-311-9090
Click on the "Buy Tickets" button on the event page and you'll be directed to TicketPro Atlantic.
General Inquiries can be made to nicole bellamy, owner/operator. call
902-964-2255
Contact Harmony House by email
We would love to hear from you! Please fill out this form and we will get in touch with you shortly.

Address
19814 Route 2
Hunter River, PE
C0A 1N0
Mailing Address
PO Box 139
Hunter River, PE
C0A 1N0
Parking is available:
in the Harmony House parking lot directly adjacent to Harmony House (but not in the Community Centre parking lot)
next door at the Hunter River Presbyterian Church parking lot and
across the road at the Central Queens Elementary School parking lot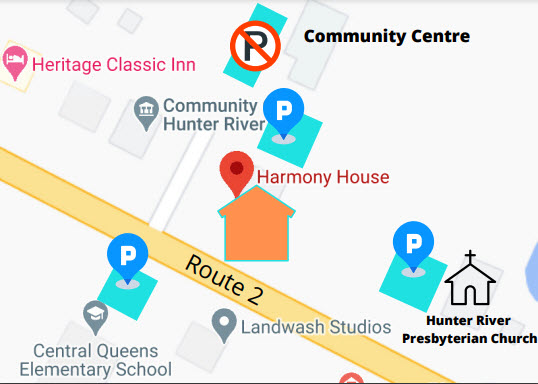 Where are the options for parking?
Please refer to the parking locations and map in the section above.
What time do the doors open before the show?
The theatre is open 30 minutes before performances. Dinner in The Lounge is available by reservation before every show. Please call 902-964-2255 or email harmonyhousepei@gmail.com for reservations and more info on the menu!
Is the venue accessible for wheelchairs?
Harmony House is wheelchair accessible by ramp to the main entrance on the main floor, with a wheelchair accessible washroom and designated space in the hall to enjoy our concerts. Please call us at 902-964-2255 if you have any further questions and let us know how we can assist you further.